Photo source: Vanity Fair
Jennifer Joanna Aniston was born on February 11, 1969 to John Aniston and Nancy Dow in Sherman Oaks, California.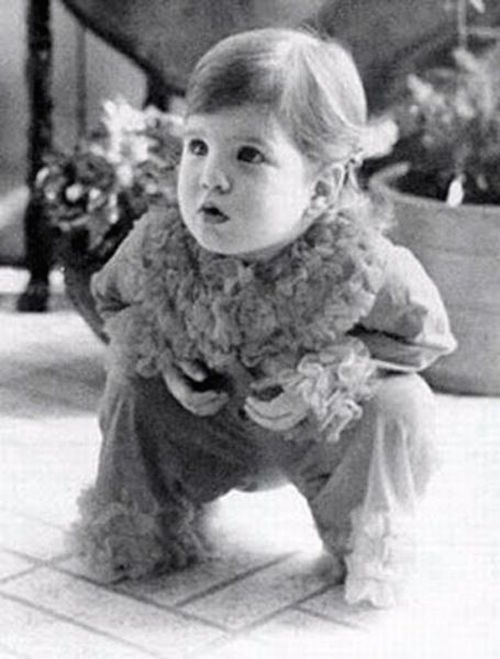 Jennifer as a child
As a seventh-grader, she already had her trademark warm smile. She had a mopful of brown hair, full cheeks, and a sharp jawline.
She attended the Rudolf Steiner School. Aniston had fond memories of growing up in New York City. She was already quite athletic in her teens. She joined the girl's basketball team in eighth grade and the volleyball team the following year. In 1984, her mousy brown hair was cut short, like a long boy's cut.
In 1986, she finds herself in La Guardia High School of Music and Arts. Already bit by the acting bug at this age, she has grown her hair long again but with a lighter reddish-brown color this time. She still retained her athletic build after years of playing sports.
The following year, she still maintained her long hair with a bit of bangs which complemented her smoothened jawline. Her eyebrows were already well-groomed. Her pretty face is immortalized in her yearbook picture as a senior. This is the face that have aged gracefully.  She was also friends with Chaz Bono (known then as Chastity, daughter of Cher and Sonny Bono).
For her senior prom, she chopped off her hair again and followed the trendy hairstyle of the year. She kept her natural curls which gave her hair body and bounce. She looked oh-so-sweet in her senior prom photo.
After graduation, she moved to Los Angeles to jump start her acting career. In 1990, she already starred in small bits in a few productions. She also lost weight and grew her brown hair again.
The following year, she was able to land her first big TV break when she joined the cast of Ferris Bueller. In 1993, she got her first major film role via the movie "Leprechaun" and went back to TV via Fox's "Herman Head." Her face was fuller this time around but nothing much about her hairstyle and body weight changed much.
When she joined the cast of "Friends," we saw a much slimmer Aniston and her hair more professionally styled. And the rest, as they say, was history.